This workshop will introduce you to the practice of KENJUTSU, both with and without armor, as well as passing on the Samurai Culture. You will have the chance to learn KOBUDO (traditional martial arts) techniques used by traditional samurai schools. We will explain the history of these Samurai arts, demonstrate techniques, and allow beginners to practice Katas (Pre-defined Movements) and experience KENJUTSU COMBAT under the direct instruction of Senpai Kenzo.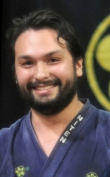 Kenzo Dino
- Niten Institute Kenjutsu practitioner since 2001
- Kenjutsu Instructor since 2005
- Hyoho Niten Ichi Ryu CHUDEN Graduate
- 2015 2015 São Paulo Sports Award in the KOBUDO category
- 1st Dan Kenjutsu by Sensei Jorge Kishikawa
- 1st Kyu Jojutsu by Sensei Jorge Kishikawa
- 2nd Kyu Iaijutsu by Sensei Jorge Kishikawa
- Attended Special Seminars with Japanese Masters from Kokushikan University Yokohama and Shindo Muso Ryu Style with Kaminoda Tsunemori Sensei.
The cost for the general public is $ 80.00, and can be paid onsite on the day of the workshop.
No previous knowledge or practice of martial arts is required. Participation is open to women and men, adults and children, over the age of 12.
To register, send an email to: [email protected] (pre-registration required).
Please wear a comfortable, long-sleeved t-shirt and sweatpants.
We look forward to seeing you there!
Date: Sunday, August 27, 2017
Time: 13:00 - 16:00 (please arrive 15 minutes early)
Cost: $ 80.00
Location: Impact Sports Performance (Sports Stable)
Address: One Superior Drive, Unit B, Superior CO 80027