por ADM - SP/São Paulo - 22-May-2015
Com grande alegria, recebemos a visita do Takeshi na Unidade Ana Rosa.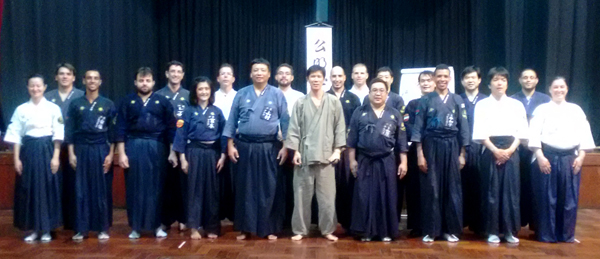 Takeshi que atualmente mora em Miami, segue firme no Caminho e permanece treinando com seus filhos em Miami.

Arigato Gozaimashita pela visita!

comments
1 of 1
Otavio - BrasíliaTakeshi San!

Tive o prazer de poder treinar com voce quando ai em São Paulo! Uma feliz coincidencia!

Continue firme com esse Ki e essa de terminação de manter o Niten em sua Vida! Levando a espada que da a vida para a terra do Tio SAM, mesmo que sem (Continues)
por Niten - Internacional - 28-Apr-2015
Notícias de pai e filho treinando em Miami:
"A primavera chegou por aqui e com ela o calor. Neste final de semana fizemos um treino aqui bem cedo porque o calor realmente chegou muito forte.
Aquecimento adulto com varios tipos suburi (jogeburi, nanameburi, katate e suburi normal)
Piloto em Hassu, Kaeshi-do, Kirikaeshi e Keiko
Niten Ichi Ryu. repetimos diversas vezes o Haritsuki."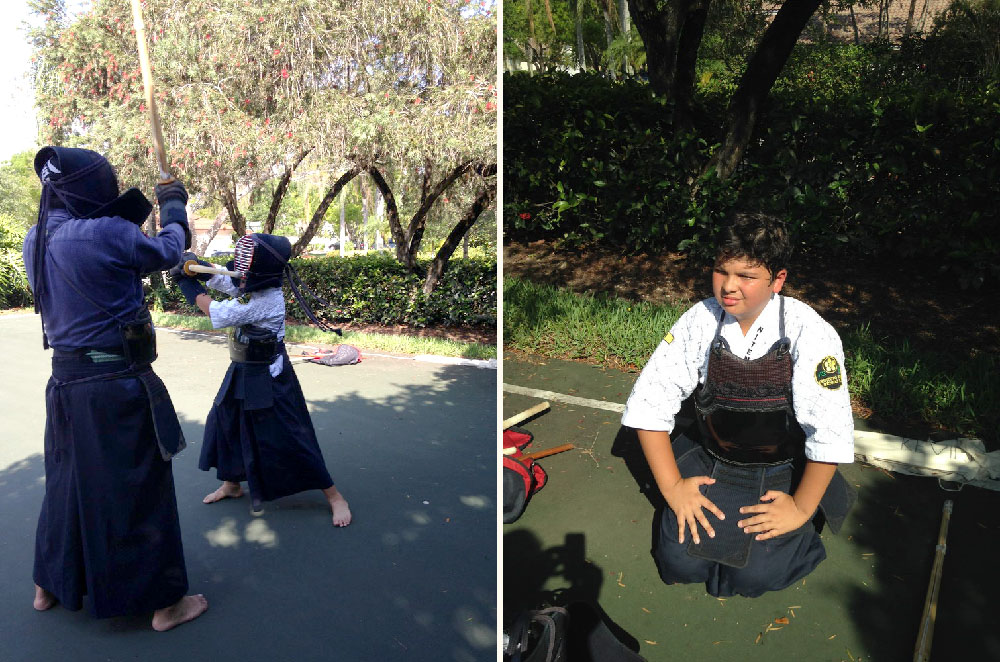 Assim acreditamos ser o treino, o Caminho: no calor, no frio; quando o treino for duro, é que realmente nosso olhar sobre o mundo muda e aprendemos a ver novas paisagens, sutilezas e variações.
Mérito do filho que participa, do pai que mantém firme este Caminho e da irmã e da mãe que dão apoio (e provavelmente tiraram a foto!).

comments
1 of 1
Samuel - BelémPosso dizer por experiência (de filho) que o treinamento com o nosso pai é muito enriquecedor, fazendo-nos crescer extraordinariamente como guerreiros e como homens de valor, além dos laços de amizade e respeito mútuo florescerem e fortalecerem.
Gambatê (Continues)
por Niten - Internacional - 13-Mar-2015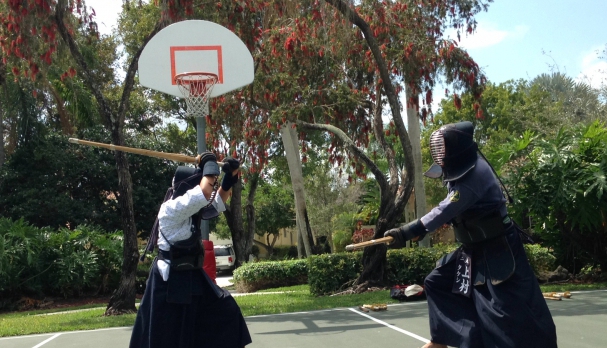 Enquanto isso em Miami Takeshi continua treinando firme com Kevin e Ingrid,
cultivando o corpo e o espírito do Bushido com a família.
Essencial!