por Takeshi - US/Miami - 06-Mar-2017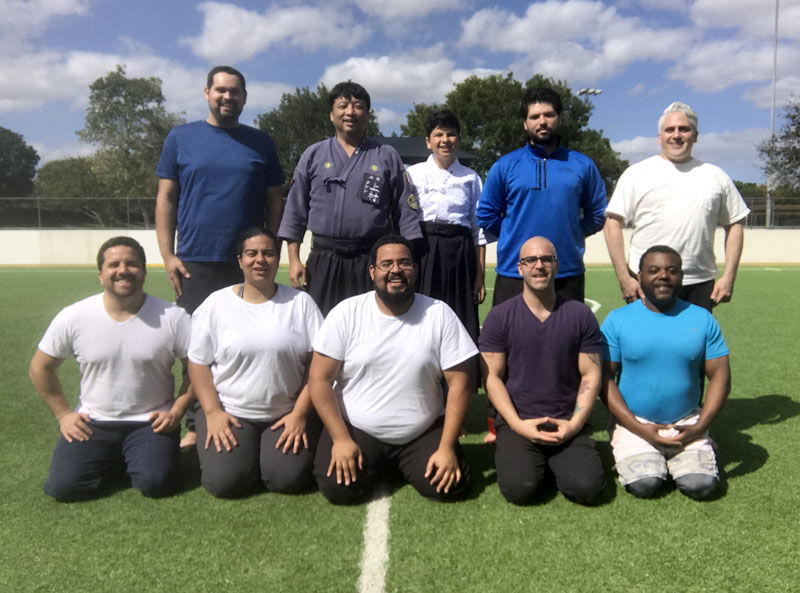 From left to right : Standing : Rafael, Takeshi, Kevin, Alberto and Leonardo. Seiza : Miguel, Vanessa, Juan, Andre and Omar.
comments
2 of 2
Felipe - São Paulo Niten USA
Weston is a very beautiful silent city, i hope all who have attended the classes found a piece of inlightment
Ganbarimashou (Continues)
Alessandro Rabello Barbosa - Porto AlegreGambare kudassai Takeshi! (Continues)
por Joé - RS/Caxias do Sul - 06-Mar-2017

Joé desu.
Yoroshiku Onegai Shimasu.

"O nosso maior inimigo somos nós mesmos".
Jargão repetido à exaustão em diversas mídias e, apesar de estar gasto, sua verdade ainda permanece.

Acredito que a raiz da força deste inimigo tão forte seja o fato de sabermos tão pouco sobre ele.
Somos frequentemente surpreendidos por sua astúcia e pelas variadas maneiras que encontra de nos atacar e assim que levantamos, lá está ele, em guarda, esperando um segundo de nossa desatenção para lançar sua próxima ofensiva.
Temer o desconhecido está em nossos instintos básicos e o medo de enfrentarmos nossas falhas alimenta e fortalece ainda mais aquele que já parece invencível.

Nos últimos treinos Sensei nos apresentou aquilo que acredito que seja a chave para darmos vários, (se não todos) os passos necessários para não sermos mais derrotados, ou pelo menos não sermos surpreendidos pelas nossas fraquezas, medos e quaisquer outros fantasmas do passado.
A retidão uma solução simples, assim como todas as boas soluções, mas não por isso que ela se torna fácil.
Cultivar apenas o espírito da retidão em todos os nossos dias, eventualmente eliminará aquilo que desconhecemos de nosso espírito e, talvez um dia, perceberemos que aquele inimigo não era tão forte assim, ou sequer era nosso inimigo, mas sim alguém que nos incentivava a crescer, mesmo que isso representasse o seu fim.

Domo Arigato Gozaimashita Sensei, por direcionar-nos no Caminho.
Domo Arigato Gozaimashita Senpai Wenzel por dar utilidade às minhas orelhas.