por Krysamon - RJ/Rio de Janeiro - 14-Sep-2011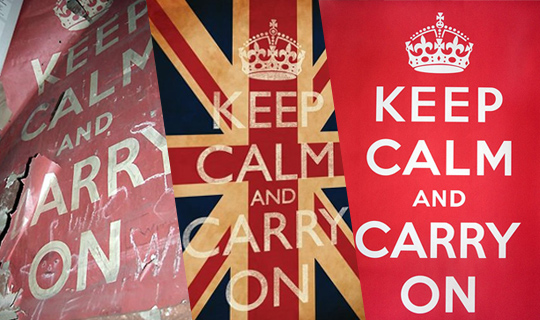 Como
designer
gráfico, acompanho as tendências visuais, cores e
grafismos
para poder usar em alguns trabalhos. Um desta tendências é a
releitura
gráfica do uso do "
Keep
Calm
and
Carry
On" (Fique calmo e vá em frente, em uma livre tradução.) que foi um
pôster
motivacional
produzido pelo governo
brit
â
nico
em 1939, início da II Guerra Mundial, para ser usado somente se o nazismo conseguisse invadir a Grã-Bretanha. O cartaz foi distribuído apenas em número limitado, e em 2000 uma cópia deste
pôster
foi
redescoberta
na
Barter
Books
, um sebo na cidade de
Alnwick
, na Inglaterra. A criação agora está agora em domínio público, e pode ser visto desde na decoração de espaços, como também o uso de variações da mensagem
motivacional
original do
poster
, como por exemplo, "
Keep
Calm
and
Call
Batman
" ou "
Keep
Calm
and Dance On" etc...
Eis a minha
releitura
como praticantes de
kentjutsu
...
comments
Breno - NiteróiOmedetou Krysamon, ficaram ótimos!
Cristian - Buenos AiresOmedeto !
Muy Buenos los carteles !!! A tener en cuenta el consejo, la calma siempre en el combate.-
Aguiar - BrasíliaSempai Otávio acho que em nihongo poderia ser:


Ivan - BHOmedeto Gozaimassu!! Muito bons os cartazes!
Otavio - BrasiliaKonnichiwa!! Gostei muito dos cartazes! Poderia fazelos em nihongo?

Acho que os dizeres seria,: